Building a Better Future
Health, Safety and Environment – embedded in our purpose
Our purpose – We passionately create enthusiastic customers and build a better future – reflects our corporate strategy and is focused on sustainable value creation through leadership and differentiation.
This credo not only runs through our products, services and operations, but also extends to the importance we place on health, safety and the environment (HSE) at Hilti and it reflects the great responsibility we feel towards our employees, customers, partners and suppliers, society and the environment.
OUR CEO ON OUR HEALTH, SAFETY AND ENVIRONMENT STRATEGY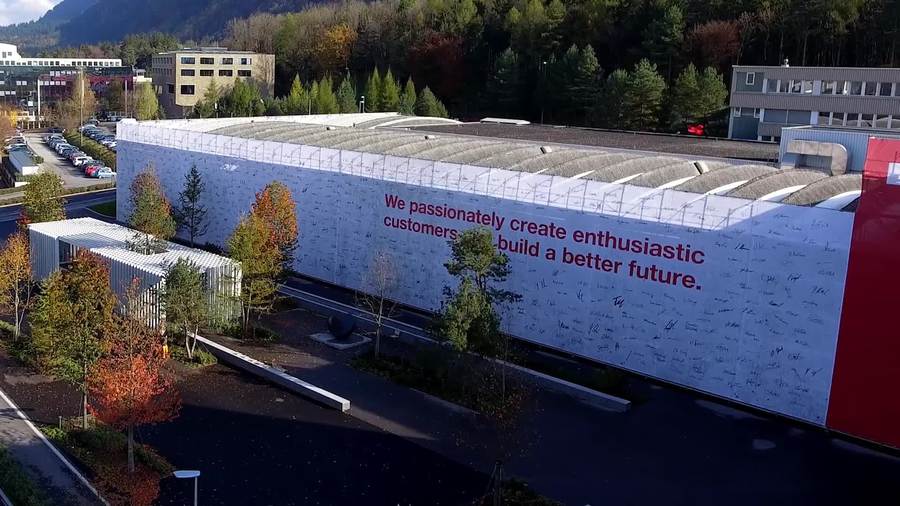 Facts and figures
accidents
a year occur on construction sites in Europe alone.
of accidents
are related to hand-held power tools.
average cost
of one accident for the company.
more new reported work-related illnesses
in construction than in other industries.
more cases of musculoskeletal disorders
are reported in construction compared to the "all-industry" average.
of global CO2 emissions
can be attributed to the construction of buildings.
OUR Community ON HEALTH, SAFETY AND THE ENVIRONMENT
"All of our new product designs take into account the resources used and emissions generated throughout their entire life cycle, together with the highest possible health and safety standards for users."
Jahangir (Jan) Doongaji, Hilti AG, Member of the Executive Board, Electric Tools and Group Research
"We focus on improving resource and energy efficiency in our plants, for example, by using environmentally friendly systems to regulate temperature, or renewable energy sources to provide power."
Eugen Tschann, Hilti AG Plant Thüringen, Maintenance and Facilities Manager
"We have strict rules on how to behave onsite, how to take precautionary measures and what personal protective equipment is necessary."
Lawrence Waterman, Park Health and Safety Partnership, Founding Partner
"Our HSE Manager Conference is a shared platform for the construction industry where we can discuss ways of keeping sites safe, share best practice and talk through customers' needs."
Peter Cavada, Hilti AG, Head of Corporate Health, Safety and Environment
"For us it's very important to have no loss of productivity. Our partnership with Hilti ensures that products are in perfect working condition together with safety training and support."
Emilie Boutounet, Eiffage Construction IDF1, HSE Responsible
"The support provided by Hilti helps our staff to make construction sites safer and to manage them more productively. It's a truly constructive partnership."
Bengt Tykesson, NIMAB Entreprenad AB, HR Manager
Milestones on our HSE journey
2018
With our CO2 Strategy, we are setting ourselves ambitious targets as regards proactive energy management, taking on the global responsibility for a sustainable future.
2017
We have already trained more than 20,000 workers worldwide in health and safety aspects.
2016
Establishment of Competence Center HSE Technologies within the development area in Kaufering.
2015
Opening of in-house gym InnoFit at Hilti Headquarters.
2014
First health an safety training courses offered in Switzerland.
2012
Launch of the Hilti Clean-Tec Chemical Anchor, HIT-CT1.
2012
First system nominated for the German "Bundespreis Eco Design" – Installation Systems MM.
2012
Achieved ISO 50001 certification for our plants in Kaufering and Nersingen.
2012
First Clean-Tec product launched, direct fastening cartridges.
2011
First development of HSE 3-year strategies for Manufacturing, Logistics and global Tool Service.
2010
First International HSE Manager Conference held in Schaan, Liechtenstein.
2008
DGNB certification of the plant in Thüringen, Austria.
2008
Establishment of Corporate HSE Team at Hilti Headquarters.
2007
Hilti joins the UN "Caring for Climate" Business Forum.
2006
We join UN Global Compact.
2000
First tool with Active Torque Control, TE 76-ATC.
1999
First tool with Active Vibration Reduction, TE 905-AVR.
1996
Achieved ISO 14001 Certification in Environmental Management.
1995
First tool with an integrated Dust Removal System, TE 5A.
Things to know for the Health and Safety Community
Impressions from our most recent HSE Manager Conference at Hilti Headquarters
The 5th HSE Manager Conference focused on "Impactful Health and Safety Training". Get to know our community and learn from best practices.
Our key initiatives relating to health, safety and the environment